In brief:
Space Runners NFT is popular among sports enthusiasts
10,000 potential wearables and an NBA partnership
Space Runners are digitally wearable NFTs via AR
Space Runners is an NFT collection of wearables designed for the metaverse.
The collection includes 10,000 digital sneakers with NBA partnerships.
NBA players including Nick Young and Kyle Kuzma have already collaborated with Space Runners to design their very own unique pair of Space Runners sneakers.
Space Runners NFT RoadMap
Space Runners was officially dropped on the public NFT market on December 21st, 2021.
Space Runners intends to launch its first apparel NFT marketplace on Jan 22nd, 2022.
By February 22nd, 2022, the Space Runners team intends to launch both social media and AR filters for augmented reality and sharing purposes.
March 22nd is the planned date for the sports and fashion metaverse release of Space Runners.
Ultimately, complete integration with available metaverses is intended for April 22nd, when Space Runners will become more widely available and applicable world.
Space Runners Incentives
The Space Runners project is an attractive project for anyone who has a fascination with NFTs and wants to join in on the metaverse hype.
Space Runners are digitally wearable NFTs that can be applied and worn via AR (Augmented Reality).
Those who invest in Space Runners will have the opportunity to apply and wear unique NFT sneakers that are unavailable anywhere else.
Additionally, those who invest in Space Runners will have a chance to meet respective celebrities and athletes who are collaborating with the project, such as Kyle Kuzma and Nick Young.
Investors and owners will also receive exclusive access to presale, merchandise, games, and concerts.
Project Creators
There are numerous team members of Space Runners.
The Co-Founders of Space Runners include Deniz and Won.
Bobby is Space Runner's Tech Lead. James is the Blockchain Lead, while Sergio is the Backend Builder of the site and platform itself.
Viktor is responsible for the concept while Pasha is Space Runner's Lead Designer. M. David is the company's Network Builder.
Rarity Attributes of Space Runners
Space Runners' digital sneakers come with unique logos, materials, and even unique socks and color schemes.
With 10,000 uniquely generated pairs of sneakers, there is a one-of-a-kind pair for everyone.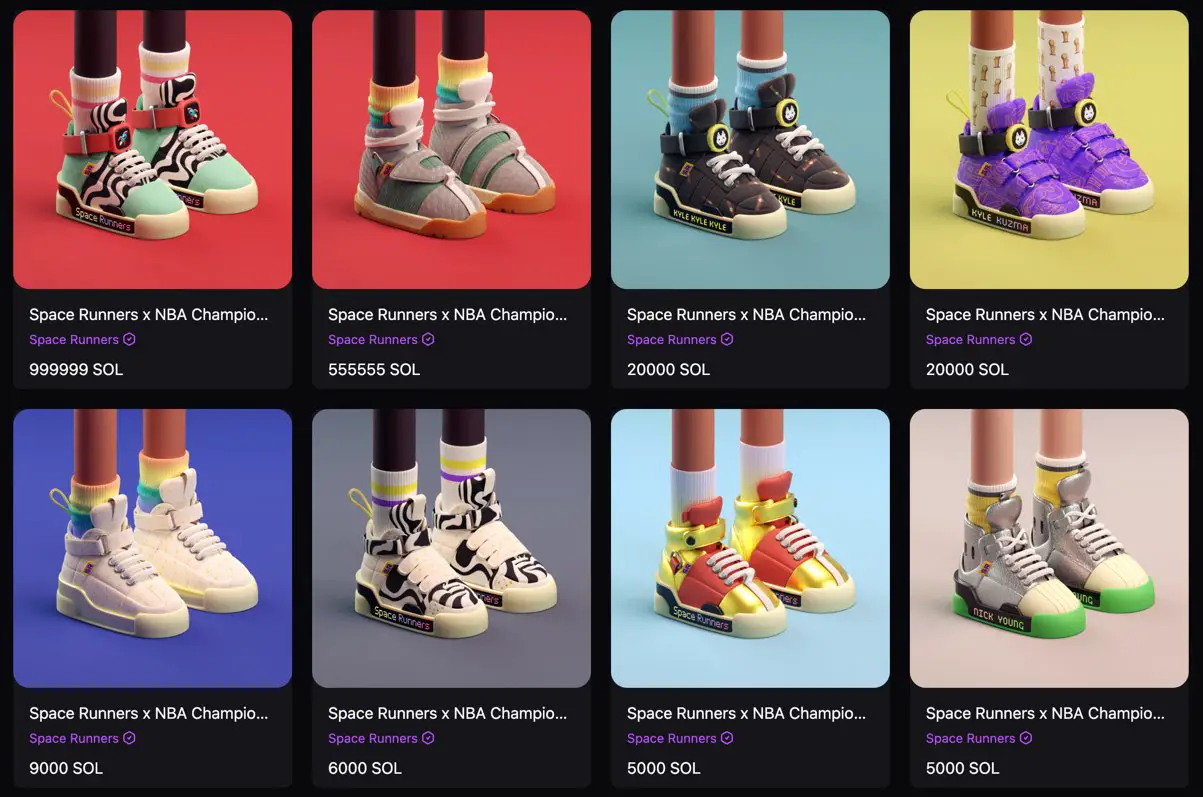 The Future of Space Runners
As Space Runners continues to grow and expand, unique attributes and rare drops are likely to occur.
With the expansion of AR, Space Runners will likely be deemed as one of the very first sets of wearables in the metaverse
The current floor price of a Space Runners NFT is 7.20 SOL.
The minting cost of each Space Runners pair of digital sneakers is 5 SOL on the Solana blockchain.
The official launch date of the first drop and beginning of fundraising efforts for Space Runners was December 21st, 2021.
More info: