NFTs have earned a lot of mainstream attention over the last two years, with celebrities, athletes, and major investors cashing in. Still, it is no secret that NFT prices can get pretty expensive in a short amount of time. Fraktion aims to make these digital assets more accessible by allowing NFT creators to "fraktionalize" ownership of their assets.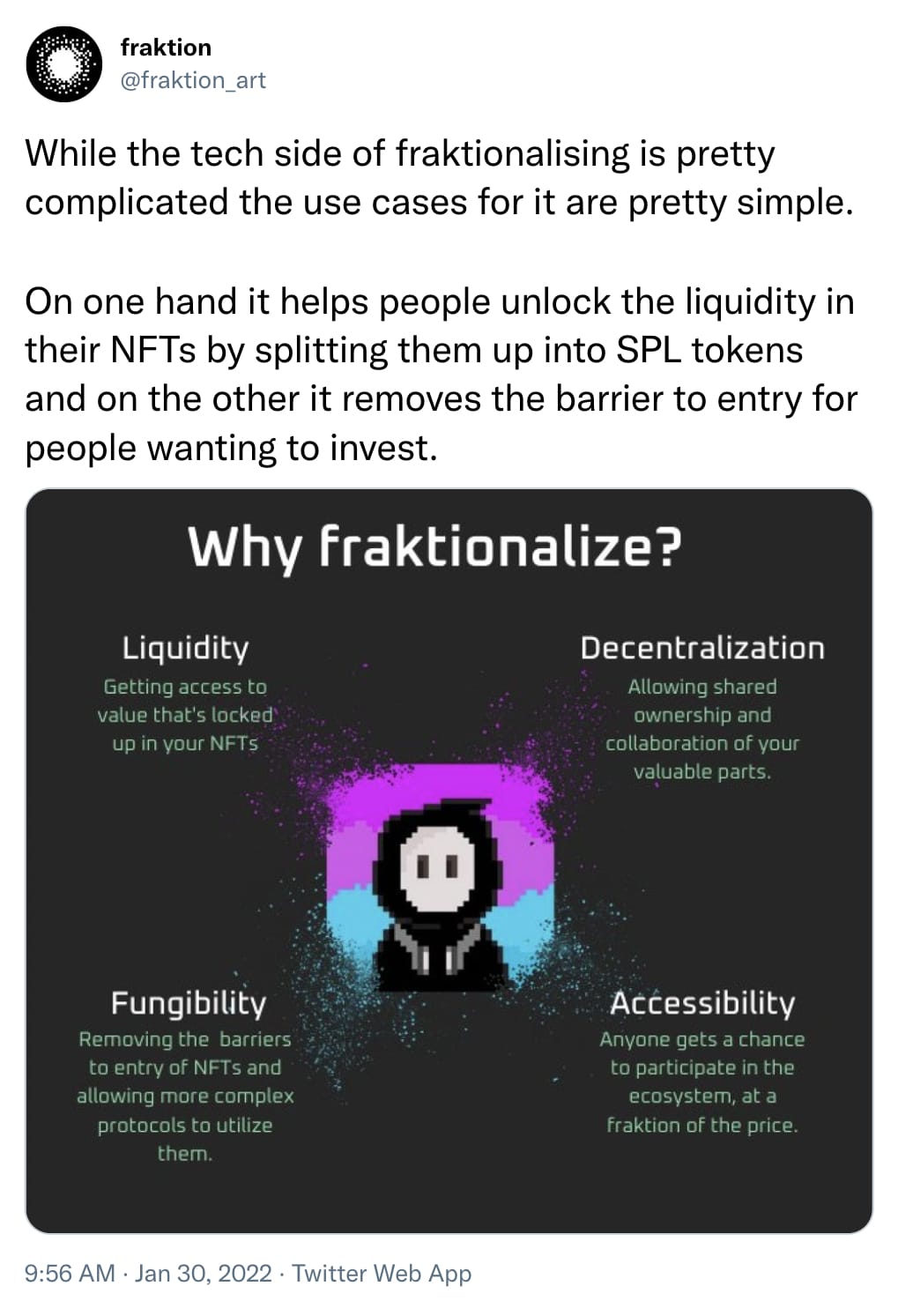 FRAKT Collection
The Fraktion project released a collection of AI-generated NFTs that holders can stake to gain access to Sandbox private sales and earn FRKT tokens. There are 10,000 FRAKT NFTs in total, and the current floor price on Solanart is 1.97 SOL.
The FRAKT NFTs have two primary traits that determine the rarity and price of the NFT. NFTs have various shapes and colors. White FRAKT NFTs make up 40% of the collection and are the least rare, whereas rainbow NFTs make up only 10% of the collection.
FRAKT collectors are able to stake their NFTs frakt.art to earn $FRKT and other exciting rewards. Each NFT is given a point value based on its traits. The NFT's point value determines the user's rewards. For example, a rainbow-colored wave NFT is worth 1,760 points, whereas a white-colored net NFT is worth 10 points.
Sandbox
FRAKT allows high-quality Solana NFT projects with long-term implications and their own ecosystem to launch their projects on the FRAKT Sandbox. To be eligible for these private sales, users need to stake their FRAKT NFTs. After a private sale launches, eligible users will have six hours to claim their allocation before the sale goes public.
Fraktionalize Function
NFT creators can split their NFTs into fractional purchases that lower the barrier to entry for investors. When an NFT creator "fraktionalizes" their NFT, they need to develop supply, ticker, and buyout price. The protocol locks the NFT in a vault and issues SPL tokens to the creator. The SPL tokens represent partial ownership in the NFT and can be airdropped or sold to buyers.
More info: