In brief:
Famous Fox Federation (FFF)  an NFT project that is more than "just a picture," the may be exactly what you need.
These foxes are adorable, but they also have numerous utilities, including staking, banner creation, and more.
With a relatively low floor price of just five SOL, worth roughly $712.35, now is a great time to give these foxes a look.
What is Famous Fox Federation?
This NFT project is a collection of 7,777 NFTs on the Solana blockchain.
These fox-themed NFTs aim to support various charities voted on by their holders and have donated 800 SOL so far.
Additionally, NFT holders gain access to community giveaways, exclusive NFT mints, raffles, and more.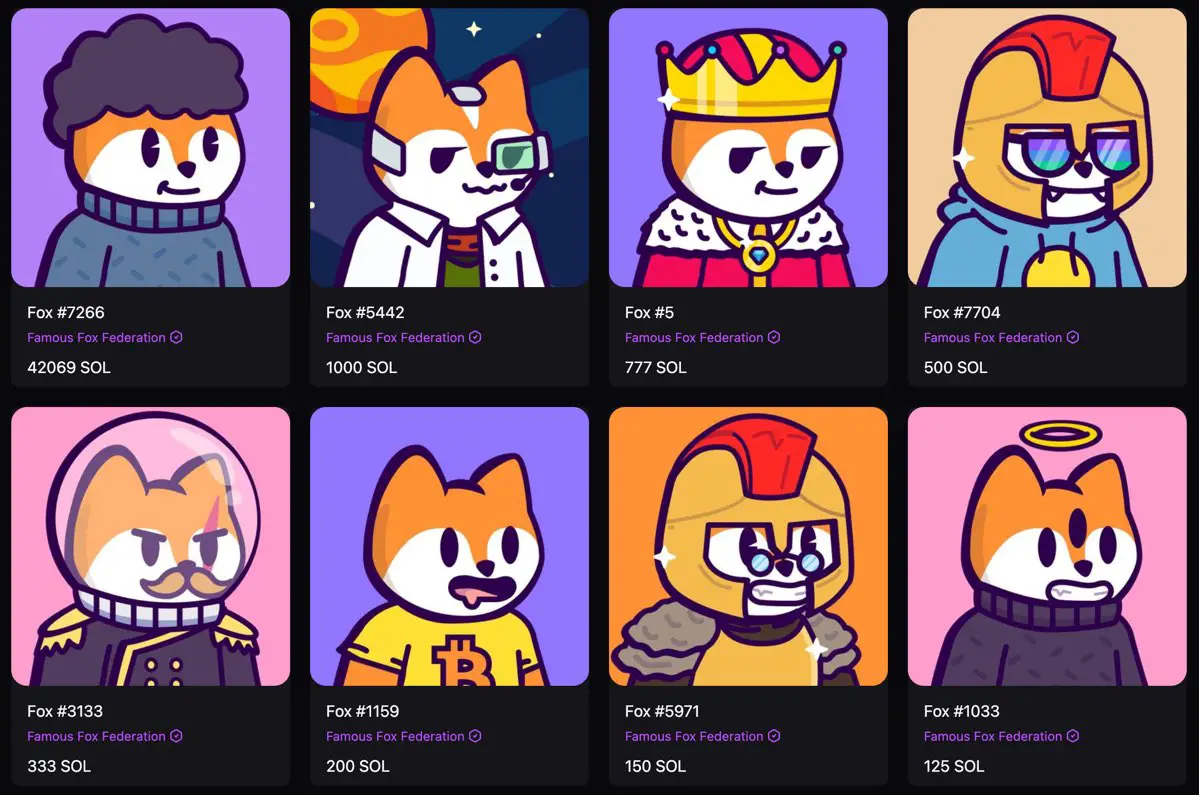 The project recently launched an NFT messaging service that allows users to mint and send an NFT message.
The FFF team also allows holders to download high-resolution images of their fox for wallpapers, t-shirts, and other accessories.
Foxy Swap
In December 2021, the Famous Fox Federation team announced Foxy Swap, a peer-to-peer NFT trading platform.
Using this platform, NFT buyers can trade their foxes for other popular, verified NFTs.
There are currently 52 verified NFT collections that users can trade with Foxy Swap, including Stoned Apes, Aurory, Geckos, Secret Squirrel, and more.
Token Staking
For added utility, FFF holders can stake their foxes to earn cryptocurrency.
Staking your NFT is easy — you have to stake your fox NFT for a minimum of three days, but there is no maximum.
Users staking their foxes earn approximately 100 $FOXY per day.
This staking mechanism can become pretty lucrative over time when you consider that each FOXY token is currently worth $0.053533.
Additionally, the price of FOXY tokens has been trending up over a 30-day period and has an all-time high of $0.12.
Banner Builder
The "right-click+save" argument tends to be a hail-mary for those who don't understand NFTs.
Still, the Famous Fox Federation has taken this argument and flipped it on its head by allowing NFT holders to use their intuitive Banner Builder to show off their fox NFTs.
These unique banners can feature multiple foxes or the same fox numerous times.
The high-resolution images and layouts look significantly better than most banners people could make themselves.
Dens
Another exciting element of the Famous Fox Federation project are the Famous Fox Dens.
These Dens serve as homes for your many fox NFTs and feature art resembling numerous fun locations.
Some Dens have a space theme, whereas others may resemble college dorms.
There are multiple dens for each location, and you can check in on your "neighbors" by connecting your wallet to the FFF website.
Much like the Famous Fox NFTs, the floor price for these dens is rising rather quickly.
Currently, the floor price for a Famous Fox Den is 0.8 SOL, worth roughly $113.97.
more info…